Dr Heather's
keynote speaking
clients & testimonials
A collection of the companies Dr Heather has worked with and some testimonials on Dr Heather's healthy habits keynote talks.
Retail, Technology and Media
Marketing, Hospitality & Transport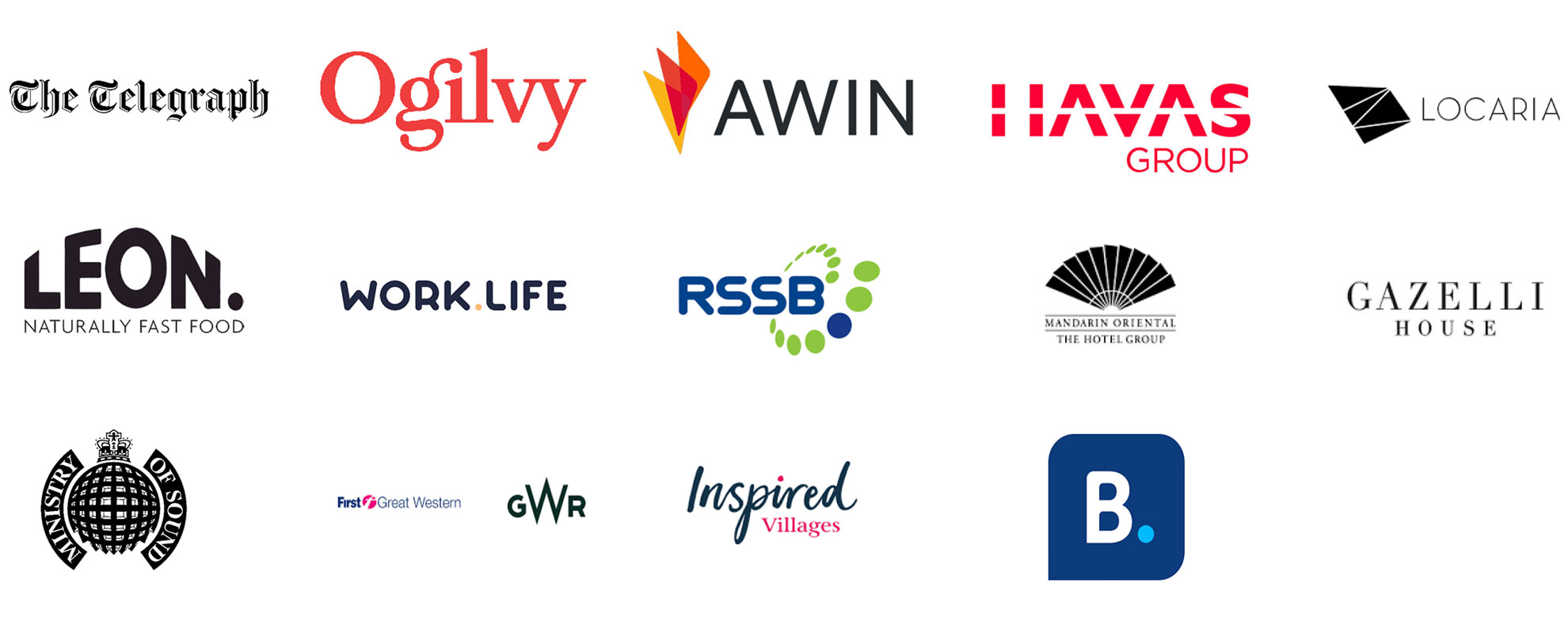 Finance, Insurance and Banking
"Heather delivered the session in a clear, easy to digest way that gave everyone some tangible ways to make lasting habit changes."
"Thank you so much, Dr Heather for your keynote providing us with evidence-based ways to create habits that last. We received feedback from our colleagues, and they really enjoyed the workshop very much and felt like they could apply the skills straight away. Thank you so much for offering this to our people, they appreciated it a lot, especially during these challenging times!"
"Working with Dr Heather was a pleasure from start to finish. From crafting engaging and action-based workshops, through to delivering them with a professional yet natural ease, her passion for her subject really shines through. All of the attendees felt empowered and fully equipped to build on their healthy habits!"
"Heather has so generously contributed to so many areas of our work this year, she has made an incredible amount of impact on our work in a small amount of time and we are so grateful for her."
"Dr. McKee's knowledge creates tools that will help us bring abstract concepts into tangible actions. Her warm and engaging personality created a very welcoming atmosphere in which to learn new concepts and strategies. We look forward to continued engagement with Dr. McKee to help us hone our skills and deepen our impact."
"Dr Heather presented in a very relaxed manner in a way I really felt I could relate with her. She supported me to take a completely different attitude to instilling new habits."
"My health coach team came to a conference with Dr Heather speaking about tiny habit change and we have really embraced the micro change philosophy with out clients. The outcomes have been so good and most people we work with can't believe it works so well for them as it feels too easy and they think it should be more challenging when making lifestyle changes!"
"It was my favourite session of all the wellbeing talks so far, the pace was just right. What I liked the most was taking some time during my work to reflect on my own value as a person and employee. The session came at the perfect time for me and has helped shape my week in such a positive way."
"I want to thank you Heather so much agreeing to be part of what was such a positive and uplifting afternoon.  We are really grateful to you for delivering such an inspiring and motivational session, for sharing your knowledge and insight around behaviour change techniques and supporting the personal and professional development of our staff. The positive feedback we have received has been incredible! Thank you again Heather, you really were brilliant, and it was such a pleasure to meet you and learn from you."
"The talk was fantastic. I was feeling so motivated, I went straight out after and had a run!"
"When you work with Dr Heather McKee you know you are in the presence of a true professional. You cannot ignore the passion she has for her field of behaviour change, especially around healthy living."
"I just participated in Dr Heather's keynote talk on habits. I participated in several sessions like that, including with Olympic athletes, but I don't know - this talk seemed the most professional, she explained everything super well and I resonated with everything she said. Allianz Services Europe We recently had Dr. Heather McKee in to speak to a group about "Small changes, big results. How to create healthy habits that last" and I couldn't recommend it enough. Heather was very informative and very interesting. Her interactive approach made the room feel very welcome and comfortable to ask questions. She is highly engaging with the room and her use of handouts in the room makes the process easy to work through. It is great to get some actual live practise in the room using the worksheet. Heather was very motivating and made the session very interesting for everyone. I would recommend her sessions as her steps to personal development are very thought provoking and easy to follow."
"Dr Heather's talk helped me learn the habits to bring happiness into my day"
"Heather is a very natural and talented speaker who speaks with warmth and a genuine passion for her subject. Heather is always a delight to work with - very professional, engaging and a true expert in her field. Heather is extremely passionate about helping others and manages to take quite complicated scientific research and make it easy and accessible to all."
"My favourite keynote of the conference was Dr Heather McKee - Bite Sized Habits - I swear by this approach in my own life and I'm excited to try and use some of these ideas with patients."
"Heather delivered a perfect, succinct, workshop. Heather was great - it was all digestible and really helpful. After a long day at work, a powerful hour was perfect."
"I just wanted to say big thank you again for the talk yesterday. I really struggle with being kind to myself, and accepting that what I do or what achieve is enough, even more so since becoming a parent (4years ago) I always think I need to do more. Putting change into practice is really hard for me, but small steps to get there! After your inspiration, I bought a little 'happy jar' from one of the stalls yesterday, with little notes to read each day. I shared these with my daughter this morning and she was so eager to read them with me"
"Heather was clear in what she said and knew exactly what she was talking about. She was lovely!"
"I attended the happy place festival today and listened to your first talk of the day and just wanted to let you know how moved I was by it. I work as a CBT therapist in CAMHS and really surprised myself how emotional I got listening to your talk. Really thought-provoking and definitely made me reflect on the lack of kindness I give to myself. Thank you!"
"I learned that habits develop over a lifetime and that failure is ok, how to break bigger oals into smaller bite sized steps. It was a clear simple and effective approach to forming good habits.
"This talk, it's given me hope. I was trying to hard to be happy not realising the small joys all around me"
"Repeating small changes makes the different to change a habit. I liked the quotes, small insights into how to make changes and how to think differently about my actions. More sessions like this would be great."
"Dr Heather has supported us with her behavioral science talks for over a year now. As a team we really find Heather's talks, motivating and insightful in supporting the personal and professional development of our staff. That's why we keep asking her back!"
"Heather is a fantastic speaker I have had the pleasure of working with for just over 6 months now. Aside from her extensive knowledge and expertise, what I love about Heather is her ability to connect to the audience with her friendly and relatable approach. Heather adds lots of value with practical exercises and takeaways in her content, along with the option of wraparound support. I look forward to working on many more projects together in the future!"
Check Dr Heather's Availability For Your Next Event
In order to provide the best possible service to each client before, during, and after every event, I only accept 25 invitations to speak per year. Check my availability below.